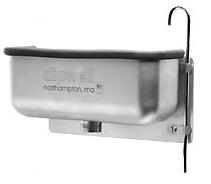 The Dipwell Company, Inc. has been at the forefront of food service sanitation products for over 60 years.  Our Dipwells, also known as dipperwells, are used to rinse and clean scoops and paddles used to dispense ice cream, mashed potatoes, coleslaw, and similar food products.  The larger models can also be used to sanitize collars on milk shake machines.  The Dipwell process quickly sanitizes your food-serving implements.
The running water Dipwell fulfills all U.S. FDA requirements: Section 3-304.12 In-Use Utensils Between Use Storage.
Our products are sold across the United States and around the world.  Our shipping and export policy makes purchasing Dipwells easy.
Only Dipwells stamped with our logo are hand-made by the Dipwell Company. Please support American manufacturing by buying real Dipwells made in the USA.
DIPWELL SCOOP SHOWER
The new Dipwell Eco Scoop Shower quickly sanitizes your food-serving implements with water on demand.